Shadowmorphix
A downloadable game for Windows
About
Un prototype/demo créé pour la jam Pot-au-Jeu 2 sous RPG Maker MV. Mises à jour régulières (plus d'infos dans ce devlog)
A prototype/demo created for the jam Pot-au-Jeu 2 with RPG Maker MV. Regular updates (more info in this devlog).

Story
Vous incarnez un explorateur chevronné qui se retrouve coincé dans une fiole, sous forme d'ombre. Vous devez activer des mécanismes pour sortir... En tant qu'ombre, vous ne pouvez pas effectuer d'actions physiques, mais vous pouvez interférer avec la lumière !
You play an experienced explorer who finds himself trapped in a flask, in the form of a shadow. You must activate mechanisms to exit... As a shadow, you cannot perform physical actions, but you can interfere with light!

Changelog
Liste de changements entre la version de la jam et la version débuggée avec entre parenthèse le temps pris pour les faire, pour le live de la jam.
- Corrigé : l'écran se teinte de noir et reste ainsi pour tout le reste du jeu, le rendant injouable (même pas 5 secondes)
- Instructions sur comment jouer revisitées (une ou deux minutes)
- Collision d'un sprite corrigé (une ou deux minutes)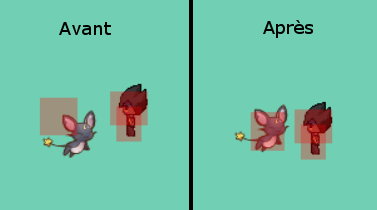 - Offsets des notifications "Sauvegardé" et "Chargé" corrigés (quelques secondes)

- Quelques autres minuscules modifications, telles que les temps d'attente entre deux actions, formatages de textes mal faits, des affaires de pixels (quelques minutes)
- Build pour Windows plus propre, un seul executable et un seul dossier (ne nécessite aucune modification du jeu lui-même)
- Ajout d'un Readme plus correct

- J'ai aussi passé du temps à chercher comment déployer pour Mac, Linux ou même une version web, mais rien ne marche apparemment donc je préfère en rester à la version Windows
Install instructions
Il se pourrait que votre antivirus essaie de bloquer le jeu. C'est normal (même si je n'en connais pas vraiment la raison) et le jeu est garanti 100% sans virus.

Your antivirus software may try to block the game. This is normal (even if I don't really know the reason) and the game is guaranteed 100% virus-free.